Every occasion calls for a specific attire to commemorate the events transpiring through the night or day, or sometimes both. Along with the attire, there are a set of fashion standards that can be reached by accessorizing and by wearing the right type of jewelry that not only shines bright but also inspires others to shine. Whether it's a wedding, bachelorette party, or a graduation, you can stack your fabulous fingers with the daintiest or boldest rings in the market designed by the one and only, Kendra Scott.
Kendra Scott
Designing from Austin, Texas, Kendra Scott has made it her life to produce some of the most eye-catching jewelry pieces in the market today. Her jewelry collections include statement pieces for men and women and can be shipped all over the world. Whether you're looking for jewelry as a gift for a loved one, yourself, or an acquaintance this holiday season, you're bound to find the perfect bijouterie at KendraScott.com.
Kendra Scott's jewelry is made from different precious metals and stones that will last a lifetime with the proper care in place. They are made with yellow, white, and rose gold, and sterling silver. This fine jewelry also includes crystals and gemstones like white and black diamonds, labradorite, spinel, turquoise, and mother-of-pearl. You can also get their jewelry engraved so you can make a special gift for your even more special someone. Their ring collection can be widely combined and stacked to make the perfect attire for any soiree or casual celebration.
All Types of Rings
Kendra Scott offers an extended collection of fine jewelry rings made from the most precious of metals and gemstones. These rings are sold in the form of bands and double bands so you can create the ideal fashion for your style. You can also choose from a variety of stones for the same ring. For example, you can choose a sterling silver double band ring and your choice of turquoise, ivory mother-of-pearl, or platinum drusy. Likewise, you can choose different metals for the same ring design—yellow, rose, and white gold are only a handful of the materials used in these stylish rings. Kendra Scott's rings are perfect for anyone looking to glam up their looks for any occasion of the year.
Pair With Other Fine Jewelry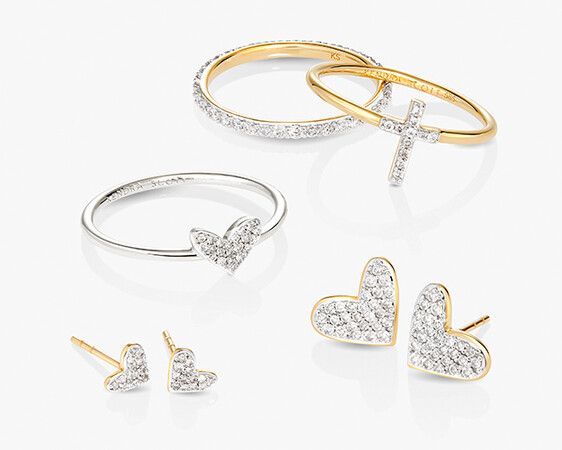 As if that wasn't enough, you can pair Kendra Scott's rings with other fine jewelry pieces from her collection. These can be necklaces, earrings, and bracelets. Depending on what you're looking for, you can make sets of your favorite pieces and combine them for your next fete. Kendra Scott's fine jewelry collection also includes pendants and charms that can be added to bracelets and necklaces so you can complete your outfit of the day with extra fashion and grace. You will find even more variation and color in Kendra Scott's selections of extravagant jewelry that will help you make the statement you're aiming for.
Great Prices Every Day
Kendra Scott is also well-known for the great specials and promotions available on the online store. For example, as of today, they have a special 30 percent off your purchases, which ends on November 29, 2021. Likewise, they have referral promotions in which you get $25 off your purchase when you refer a friend to their webpage and they make an order with your referral. Likewise, they have a gift special that applies to selected items when your order totals $250 or less. Keep in mind that these offers are limited and have an expiration date.
So head to KendraScott.com and check out your next piece of fine jewelry rings for a stunning look everyone will remember.